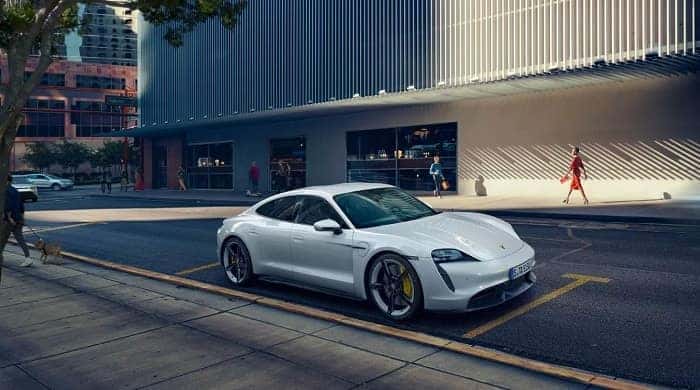 New Porsche Car Anchorage
Experience Porsche like never before with the new all-electric Porsche Taycan. Find the place where eco-friendly and sport meet with this new Porsche car in Anchorage. Regardless of your driving style or personality, you'll find a new Porsche Taycan that fits you. Take a look at the three available models that include the Porsche Taycan 4S, Taycan Turbo, or Taycan Turbo S to find the configuration that suits you. Equipped with two Permanent Magnet Synchronous Motors (one on each axle), the Porsche Taycan Turbo and Taycan Turbo S offer a dynamic driving experience complete with all-wheel drive.
Contact us at Porsche Anchorage today to order your new Porsche Taycan. You can also come by our Anchorage Porsche dealership to talk to our team of Porsche experts and learn more about what this new Porsche car has to offer.
Porsche Anchorage is conveniently located at 6115 Old Seward Hwy Anchorage, Alaska 99518. We also proudly serve the Eagle River, Kenai, and Palmer areas. The team in our Porsche Finance Department can help you get behind the wheel of this electric Porsche car. Get a head start on the financing process by filling out our online finance application, then find out the true value of your current vehicle with our easy trade-in form.
Electric Porsche: Fully Charged Sports Car
The picture of athleticism and the epitome of efficiency, the new Porsche Taycan is the complete package you've been looking for. From front to back and top to bottom, this new electric Porsche is specifically designed to enhance your driving experience with a smooth ride. Air curtains in the form of vertical air intakes ahead of the front wheels allow air to flow over the front wheels like a curtain, making for a smooth right with reduced turbulence. Enjoy the scenery and a sunny day with a fixed glass, panoramic sunroof that gives the feel of vaulted ceilings in your car.
Rather than fueling up at a pump, your Porsche electric car charges up with any of a number of options. Charge up your Porsche Taycan at night with the at-home 240V NEMA 14-50 outlet. Or, attach the Mobile Charger Connect to your garage wall in available charging dock. On the road and in a hurry? Porsche has you covered with a growing network of Porsche Turbo Chargers. You'll never fear a dead battery with the Porsche Connect app and the Porsche Charging Service feature, so you can plan ahead and find any of a number of AC charging stations in your area. You can also use your Porsche Connect App to track the charge level or remaining charge time of your Porsche Taycan from anywhere.
With Porsche technology of the future comes connectivity of the future. In addition to the Porsche Connect App, you can seamlessly connect to your Porsche Taycan with standard Bluetooth® connectivity. Easily access your music library from the touchscreen with built-in Apple Music®. Plan your trip with comprehensive navigation that will not only help you plan your trip, but plan ahead by locating charging stations along the way with the Charging Planner.
Contact us today at Porsche Anchorage to reserve your very own Porsche Taycan. You'll be glad you did.